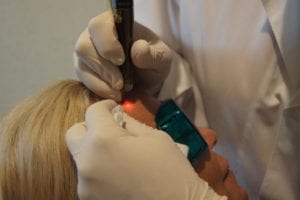 Sun spots, freckles, melasma, hyperpigmentation, brown spots etc, are what we, in medicine, refer to as skin discolorations. They are benign skin lesions resulting from a metabolism disorder of the melanin cells.  

Sun exposure is the main cause of these discolorations, but heredity, sex, skin colour, pregnancy play a vital part.

They appear in many parts of the body, mostly in the face, back and hands.

The approach is never the same and discoloration treatments should be highly personalized. We have the best results when we combine different techniques (e.g. q-switched laser, IPL, microdermabrasion, pigment lightening creams). In any case, even a successful treatment for brown spots/discolorations/sun spots cannot prevent new formations, therefore  sun protection is crucial, especially in the summer months.

Results are long lasting and maintenance treatment is recommended once a year, during the autumn months.  

Mosturizers should be applied immediately after treatment to reduce redness. If you want, you may wear makeup after therapy, but you should not forget to use sunscreen. Reducing sun exposure could be a good idea.